NetCurtains.co.uk has always been a family-run business and remains so to this day. We're proud of this fact, as it reflects our simple mission of providing custom made-to-measure curtains, blinds and net curtains at cheap prices without compromising on quality. This approach dates back decades, all the way back to the very early days of the business when founder Gerry Power first started trading from a stall in Lewisham Market with his uncle Ben in the 1950s.
Originally, they were selling cosmetic products, but Gerry soon wanted to change their focus to something he saw as more lucrative. At the time, fabrics – including ready made curtains – were still in relatively short supply as they had been since the end of World War II. Selling curtains quickly proved to be a profitable move, and the pair started to build up a brand locally. By using the name "Gerry and Ben The Curtain Men" to advertise, they managed to capitalise on the success of one of the biggest children's television shows at the time, Bill and Ben The Flowerpot Men. The well-known theme tune helped make the similarly-named brand memorable, and word quickly spread about their quality products.
A large WWII bomb site in Lewisham, which remained empty at the time, was let out to local market stall traders including Gerry and Ben. It was here that they experienced amazing success selling Fablon self-adhesive plastic coverings. By undercutting their rivals and selling these at only 3/6 (the RRP was 3/9), they were constantly looking for more stock due to the overwhelming demand. At one point, Fablon actually approached Gerry to represent the brand for the whole south east of England, but unfortunately he thought at the time he was too "green" to accept the offer.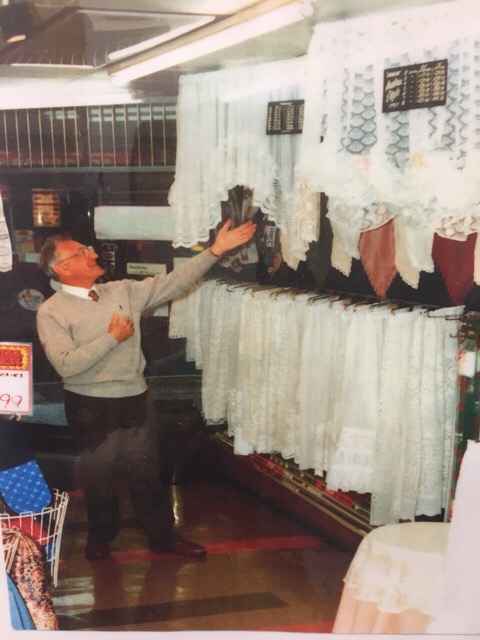 Meanwhile, many more products were proving extremely popular in the early days of the business. Gerry manufactured his own foam cushion pads, ironing board covers and woodwork aprons, which all sold very well due to a lack of such items on the market at the time. The business started to become known as a go-to place to find top quality fabrics and useful items for the home.
Our story so far is all adapted from Gerry's personal notes on the early days of the business. In our next blog entry we'll be continuing with the history of our company and covering some more fascinating details about life in London for market traders at the time.